Chiropractic Treatment Services
Allow Us To Bring You Relief
Healthy is MORE Than "Feeling Good"
Being healthy is more than just "feeling good." Your body should function at its maximum potential in order to be truly healthy. You have to do more than just treat pain or symptoms.
We Consult With You About "Wellness"
That's why we regularly consult our patients about the importance of taking an active role in his or her health. We have discussions about diet and what role that could have in well-being.
Proper nutritional guidelines are presented in an easy-to-understand fashion. Demonstrations of pelvic stability, stretching, cardiovascular exercises and spinal stabilization exercises are provided in necessary cases.
Advanced Chiropractic AND Wellness Center
Isn't it time to do business with a chiropractic AND wellness center that truly understands the importance of more than just "adjustments?"
Comprehensive Wellness Services
Find Relief and Promote Healing with Our Wellness Services.
Nutritional
Counseling
You may not even realize that what you are putting into your body could be the root of your pain or body dysfunction. We will discuss proper nutritional guidelines with you in a way that is easy to understand. A simple adjustment in your diet can significantly reduce the pain and inflammation that certain types of food may be causing you to experience.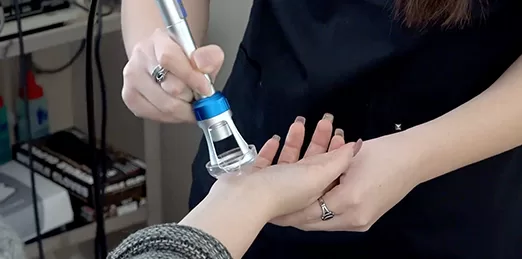 Class IV
Remy Laser
Class IV laser therapy is used to relieve muscle and joint pain. Unlike "cold lasers," high-powered diode laser therapy offers a warm sensation as the photons from the light penetrate the skin and are absorbed by the energy-producing mitochondria in the cell. This accelerates the healing process and reduces inflammation.
What are the Advantages of Class IV Remy Laser
Some of the advantages of Class IV Remy Laser are:
Decreases Inflammation
Decreases Pain
Accelerates Healing
Increases Metabolism
Musculoskeletal Pain Relief
Is laser therapy safe?
Yes! The patient will only feel a slight warming sensation. Additionally, safety glasses and precautions are always in place before treatment.
How long does a laser therapy treatment session take?
Treatment from a class IV laser only takes a few minutes to get the maximum effect. They work 5x faster than class III or cold lasers as well.
How long should I undergo laser therapy treatment to achieve a result?
It depends. However, it is recommended in most cases to be treated two-three times per week for four-six weeks to achieve lasting results.
How soon after treatment will I notice the results?
The noticeable change is what makes class IV laser therapy elite. Some patients notice a change after the first session. Of course, everyone is different. Others may take a few sessions but it's not uncommon to feel the results soon after.
What Our Customers Have To Say:
Real Results from Real Patients
Richard T
29. June, 2023.
Everyone is so nice they make you feel at home. Why are you there. And every time I leave I feel so much better
It was a very positive experience. Dr. Steinle and her staff were punctual, professional and caring. This was my first visit to a chiropractor. I didn't know what to expect, but Dr. Steinle was good to explain what they would do and why. I was very comfortable. They went out of their way to accommodate my schedule and time frame.
This is the best chiropractor in the CSRA, hands down. I have seen Dr. Larry, and now Dr. Brad for 20 years. I go monthly for maintenance. They are so friendly and caring and both are brilliant in their field. I have recommended them to many people over the years and everyone loves them. I call them genius one and genius two:)
Dr. Noel is awesome!! I've always received the best care from her. I feel better after my visits with her. Dr. Noel lets me be involved in my care by determining how many visits I need per how I am feeling. I highly value her opinions and appreciate and depend on her medical advice.
Melissa M
29. June, 2023.
On Monday of this week, I was in such severe pain that could barely hold my head up or do anything with my right arm. My neck was so messed up (axis slipped out of place) that I had to literally hold my head up with my hand just to rinse out the shampoo out of my hair while in the shower. After what I call an emergency appt with Dr. Brad, and a follow up appt the same day, I felt immediately better – sore, but nothing comparable to the pain I was in. I am pleased to say that by yesterday (Thursday) I was back to normal! It just hit me now (Friday) that I feel no pain whatsoever in my neck and it's all because Dr. Brad was patient, thorough, and extremely professional and competent! Thank you all for being as wonderful as you were with me! I can't wait to come back and get adjusted!
Heather F
29. June, 2023.
I'm 13 weeks pregnant and have been having issues with my hip and knee. The first time I saw Dr.Brad several weeks ago my hip was locking up, I was feeling better within 48 hours. A couple of days ago, my knee was bothering me really bad. I immediately made an appointment with Dr.Brad, he had me feeling so much better within the hour. I highly recommend Dr.Brad, he had me feeling better quickly and took time with me to get me better. I was very impressed with him.
My 12 yr old twisted her knee while running in PE. Long story short, 4 ER doctors, 1 orthopedic surgeon, 2 pediatric orthopedic specialist, 3 knee braces, a pair of crutches, multiple X-rays & an MRI all over a 1+month period, my child was still in pain & could barely walk. She missed several days of school and was on the verge on having to be homeschooled. Finally it hit me, Dr Larry! He's a true gift from God in my book. I have been a patient of his since I was about 12. I stopped by his office on 9/26 & left a message for him to call me. An hour later he was on the phone with me. I explained everything then he began explaining his opinion of what happened & was confident they could help her. He said it with such confidence, something all the other doctors lacked. Don't get me wrong, I'm sure they're great doctors but when everyone of them & I mean every one reviewed her reports & examines her, they all got a puzzled look. Dr Larry recommended I bring her in on Saturday to see his son Dr Brad since he was not going to be in the office. Dr Brad was wonderful. Very professional & knowledgable. He & his dad had discussed my daughter after mine & Dr Larry's conversation. My daughter went in on crutches & walked out while I carried the crutches. She still has a ways to go but she's bouncing around the house & feeling great! Thank you Dr Larry & Dr Brad! True Angels on earth sent here to help others!
LaKysha M
29. June, 2023.
This is the best chiropractic experience I've ever had. Dr. Brad is the absolute best. He's so knowledgeable and attentive to every single one of his patients. He takes the time to make sure you are genuinely doing well. Superb in all aspects!!!!
Highly skilled chiropractors, excellent massage therapist, warm and friendly atmosphere, and a wonderful family owned/operated business. I can't recommend Advanced Chiropractic highly enough.
Amazing office!! More importantly everyone there is amazing! Completely kind, extremely professional and very proficient! Dr. Brad has been treating Alia, my 3 week old baby and getting amazing results! I confidently would recommend and refer ANYONE and highly suggest you give chiropractic care a try! Thank you for such good wellness care!
Brad Steinle really knows his stuff. He obviously listened to his instructors and mentors. Grateful for your expert adjustments. Thank you!
Advanced Chiropractic
& Wellness Center
122 Old Evans Rd.
Augusta, GA 30907
706.738.7731